Using responsive web design to achieve a multi-device compatible Website Production
Our responsive web design supports not only PCs, but also multiple devices such as smartphones and tablets.
With know-how, experience, and technology, we identify the merits and demerits of each customer and service, and propose the most suitable website.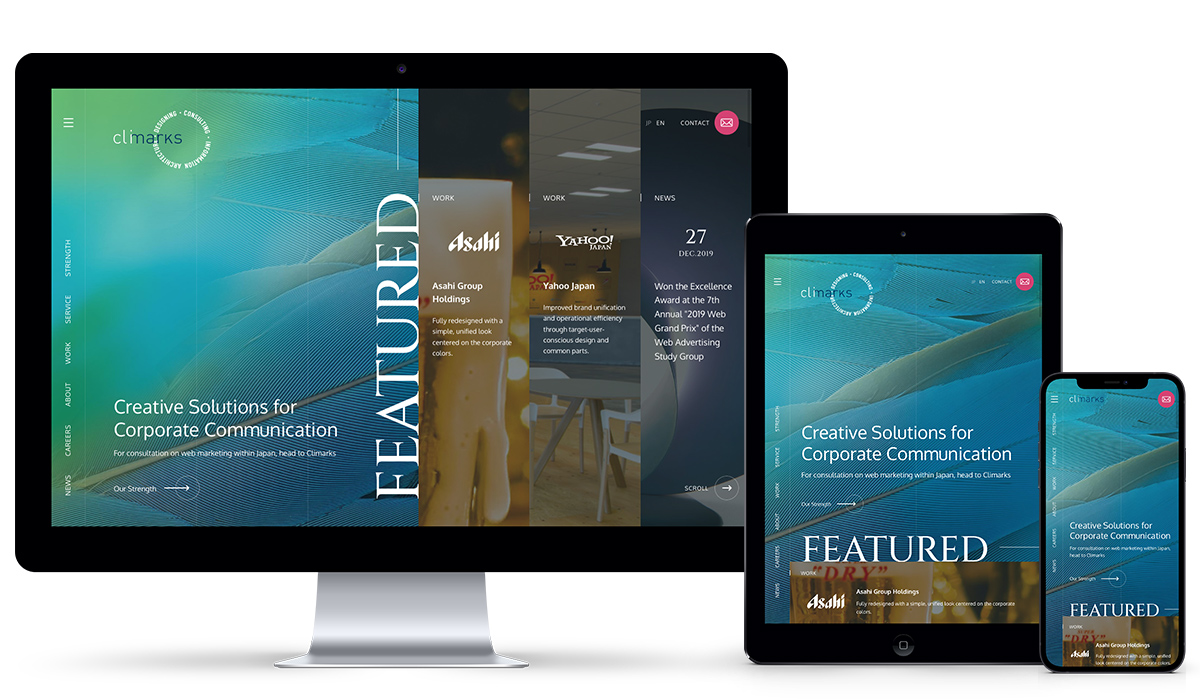 Solution
Proposing optimal solutions to challenges in order to achieve your goals
Wish to have a PC site be compatible with smartphones
Wish to manage both PC and smartphone pages with a single source
Wish to unify the URL's for both PC and smartphone sites
Wish to lighten the operational load
Wish to consider the introduction of an integrative CMS
Workflow
Production Workflow
In the case of a typical website
Planning

Planning & Strategic Planning
We will assess the necessity for responsive design to match the strategies and service of our client companies, consider the optimal portfolio for each device, and formulate a multi-device strategy to lighten the operational load.
Based on challenges and directions, we will plan a multi-device compatible user interface to support strategies to achieve your essential goals. We will produce all devices in a cross-sectional manner to maximize ROI across a consistent web strategy and information appeal.
Creative

Design & Construction
In order to achieve a faithful representation of the strategy during the construction phase, we will build a website that balances accurate information design along with high design quality in order to satisfy all stakeholders.
Maintenance

Operation & Updates
We will develop design, HTML, and operational guidelines and continue to support a system for establishing a web operation flow, in order to effectively use and operate your published website. In addition to this, we will also thoroughly support practical work as well through periodic updates and more.
Work
Responsive Web Design Construction Experience